'Honey, can you call the door fixer?'
If there's one thing that is quite common among Australians it's slang, and of course, someone who repairs sliding doors is often referred to as a door fixer.
You may hear the wife yell to the husband, 'Honey, can you call the door fixer, this door is totally jammed.'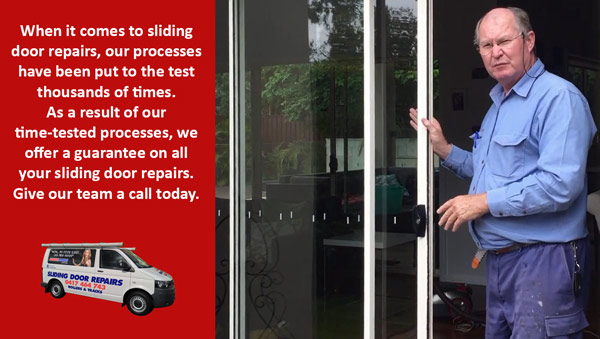 When it comes to door fixers, we're looking at a couple of different things.
There's a range of different doors that need to be fixed, so let's go through a few of them here.
Types of doors a door fixer can repair
Glass sliding door repair
Glass sliding door repairs are the most common.
The glass sliding door repairs are usually the one that is at the front door of your house or maybe leading to the back area of your house. They are also verandah sliding doors that are glass.
Click play on the video below to see a before and after sliding door repair.
These are very commonly used, so as a result, they have a lot of wear and tear. They get a lot of use.
Glass sliding doors get a lot of dirt and grime, and the rollers and tracks become brittle and start to disintegrate over time.
We need to jump on that, make sure it's fixed, otherwise, you'll have an impossible to open sliding door.
You won't be able to open it, but what we can do is replace all of those with high-quality rollers, new tracks, and have your glass sliding door rolling like new.
Internal sliding door repairs
Now, another common door is an internal sliding door.
These are the ones that might go from one room to the next. Maybe the living room to the lounge room or the kitchen to the TV room and that type of thing.
They come in wooden doors. They can be beautiful wooden doors. They can be sliding glass doors, sliding wooden doors, and so on.
The internal wooden doors also have a track.
They also have a track and rollers that need to be tended to and maintained.
As you can appreciate, all of these have constant wear and tear.
Your door fixers (that's us), are able to jump in there and we will fix your sliding doors. We'll have a look at the rollers and the tracks and make sure that they are repaired and back to perfect working order.
Aluminium sliding doors
The other type of common door is the aluminium sliding door.
In fact, most homes have these going from the inside to the backyard and they are very common.
They're usually made of aluminium because they're a little bit lightweight and they cost less than your steel frame doors and heavy wooden doors.
Aluminium sliding doors are a little bit lighter, so not as much wear and tear on the tracks and rollers, but still, it's wear and tear, and over time they're going to disintegrate.
It is inevitable that your tracks and rollers will break down over time. They'll get dirty, broken, chipped and damaged and need to be replaced as well.
Fixing Sliding Door Rollers
The most common question we get asked on the phone is can you fix my sliding door rollers?
Fixing sliding door rollers is not a simple process of taking out the door, removing the old ones and inserting new ones.
Instead, there are plenty of things you need to consider when fixing sliding door rollers.
Our process is based on 25+ years of experience in knowing what type of rollers matches up best with the weight of your door.
Most of the cheap rollers you get from Bunnings or your local hardware store are not strong enough to take the weight of your door. That's why they are cheap.
If you do a DIY and buy cheap rollers, it is inevitable that you will have to regularly repair your sliding door rollers.
Click play on the video below to see how bad some rollers get. Imagine how much work we had to do to get these rollers out and replace them with high-quality heavy-duty rollers.
Adsafe Doors has been a door fixer and a specialist door fixer since 1992, and we can look after all of your door repairs.
No matter if it's internal sliding doors, glass sliding doors or aluminium sliding doors, we can fix your door and will travel all across the greater Sydney area.
From Bondi, over to the Northern Beaches, Parramatta down to Penrith, Blue Mountains, and The Hills District.
So give our team a call today. We guarantee to get your door sliding like new again. You'll be able to open and close it with your little pinky.
Feel free to call us for a free quote on 0417 464 743

or