Our Hills Sliding Door Repairs are Quick & Easy.
Adsafe Doors has been servicing the Hills District area with sliding door repairs for over 25 years and have hundreds of satisfied customers from Castle Hill to Winston Hills and all the way over to Pennant Hills.
If you are having problems with your sliding door, patio door or screen doors such as:
Your door is hard to open and close
Your door isn't locking properly
You have to jig your door up and down to get it to lock
Your sliding door is no longer sliding properly
Your door is scraping heavily when you move it
Your sliding door continually comes off its tracks
then we have a cost-effective solution to get your door sliding smoothly again.
Our history in the Hills District is extensive, and we have been operating since 1992, and all our work is quality guaranteed.
We only use the best sliding door replacement parts and we are confident of their high standard of manufacture and reliability which guarantees you, the consumer, the ability to open and close your door with one finger.

Our Sliding door repair process
We have been perfecting our sliding door repair process since 1992 and the combination of experience, quality and professionalism means your door will slide better than new.
The Adsafe Doors team conduct hundreds of door repairs every year, so we know every brand of door in Sydney, and for each brand, we have a tailored repair which goes like this:
An initial phone call to identify the exact door type and issue with your sliding door.
A clear quote, so you are not left guessing about the price.
We turn up on time.
We remove the fixed panel if required.
We then remove the door.
We can dismantle the frame of the door from the Glass if need be.
We always replace the worn rollers of your sliding door with better rollers. We replace the rollers every time it is needed to get your door sliding smoothly again.
We machine the sliding door track (runner) on the threshold.
We fit a stainless steel track cover or a new track.
We return the sliding door to the frame.
We adjust the height and width of the door to the frame so that the edge of the door and frame are parallel.
With the lock and strike lined up with each other, we adjust the lock such that the door locks perfectly.
Your door handle can even be replaced if it is broken
We clean up after our work is done
Our Sliding Door Repair Services cover all suburbs within the Hills District, including the following locations:
| | | |
| --- | --- | --- |
| Carlingford Heights | Baulkham Hills | Seven Hills |
| North Rocks | Pennant Hills | Norwest Business Park |
| Seven Hills West | Bella Vista | Winston Hills |
| Cheltenham | Cherrybrook | Carlingford |
| Glenhaven | Castle Hill | Seven Hills North |
| Model Farms | Carlingford North | Beecroft |
| West Pennant Hills | Crestwood | Norwest |
Click play on the video below to see our process for machining your sliding door track to ensure the best result for your home.
Over time, rollers get brittle and crack, and with a few pushes in frustration, your door rollers simply disintegrate or develop flat spots and broken edges and your door becomes almost impossible to move.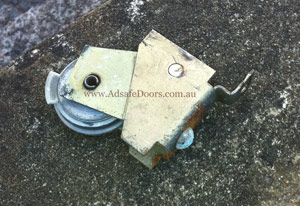 You will notice the image on the right with only one fragment of the roller left. If your door is noisy and or difficult to move your rollers are likely to be in this condition.
So give us a call today, and we'll arrange a
time to fix your door and get things back to normal.
For more information or to request a quote, please Contact Us via the number below and speak to someone who can help you straight away for all your sliding door repairs.
Feel free to call us for a quote on 0417 464 743

or

To understand our process in more detail, watch the video below.
Here we are fixing a client's door from start to finish.
You will notice how near impossible the door was, to begin with, as the track was very badly worn and the rollers were completely disintegrated.
Tracks and Rollers are the two biggest issues when it comes to sliding door repairs. We see it all the time. So we will replace the rollers to make your door sliding smoothly and with one finger.
This particular job was done at West Pennant Hills and if you watch the video to you will see how the locks line up correctly and how easy it is to slide the door open and closed.
No matter if you need your glass sliding door, patio door or your screen doors repaired, we have the expertise to do it. On a side note, garage doors are not something we repair, just sliding doors.
For more information on our sliding door repair process visit our Sydney sliding door FAQ page. If you are looking for an automatic door closer specialist then give us a call for a free quote as well.
Feel free to call us for a quote on 0417 464 743

or