Our Windsor Sliding Door Repairs are Quick & Easy.
Adsafe Doors has been repairing and servicing Sliding Doors in the Windsor region of Sydney since 1992 and are very familiar with the different Sliding Door Brands and conditions.
We have repaired and serviced thousands of Aluminium Sliding Doors in Sydney and many timber sliding doors. In the Windsor area, we have hundreds of satisfied customers from North Richmond to Glossodia and all the way over to Riverstone.
If your Sliding Door is:
difficult to move
not locking properly
not sliding quietly and smoothly
is scraping when you open or close it
coming off its runner
we have the parts and experience to fix it.
Click play on the video below to see the before and after of one of the worst doors we've fixed.
All our work is quality guaranteed since we only use the best replacement parts, made by Australian companies and follow a strict procedure in the repair process.
We have been operating for many years in the Windsor area and have many satisfied customers.
We are able to guarantee our work to our customers because we use quality parts with a high standard of manufacture and reliability.
By the time we have repaired your sliding door, you will be able to open and close it with one finger, guaranteed.
Not only that, but you will get a warranty for your new repairs as well.

Our process for repairing your sliding door in Windsor, Sydney
Your door will slide better than new because we bring a combination of quality, and professionalism based on over 25+ years experience in Sliding Door Repairs with a proven track record.
The teams at Adsafe Doors knows every brand of aluminium Sliding Door in Sydney.
We know them because we conduct hundreds of door repairs every year. Consequently, for each brand of sliding door, we have a tailored repair which goes like this.
Initial phone call to identify the exact door type and issue with your sliding door.
A clear quote so you are not left guessing about the price.
We turn up on time.
We remove the fixed panel if required.
We then remove the door.
We can dismantle the frame of the door from the Glass if need be.
We always replace the worn rollers of your sliding door with better rollers.
We machine the sliding door track (runner) on the threshold.
We Fit a stainless steel track cover or a new track.
We return the sliding door to the frame.
We adjust the height and width of the door to the frame so that the edge of the door and frame are parallel.
With the lock and strike lined up with each other, we adjust the lock such that the door locks perfectly.
We clean up after our work is done
Our Sliding Door Repair Services cover all suburbs within the Windsor Area, including the following locations:
| | | |
| --- | --- | --- |
| Mulgrave | Lowlands | McGraths Hill |
| Glossodia | Box Hill | Colebee |
| Marsden Park | Pitt Town | Richmond |
| Riverstone | South Windsor | Vineyard |
| Windsor | North Richmond | Agnes Banks |
| Scheyville | Wilberforce | Bligh Park |
| Freemans Reach | Maraylya | Oakville |
| Berkshire Park | Nelson | Windsor Downs |
Rollers get worn and damaged over the years and that results in tyres cracking and bearing wear and then runner damage.
With a push of the door in frustration, the roller disintegrates and then your door can become impossible to move.
Notice the image on the right with only one fragment of the roller left.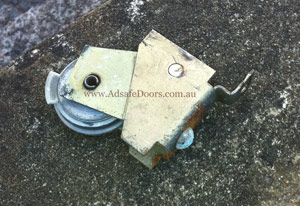 If your door is difficult to move or is just noisy then it is time for some maintenance, because you don't want the situation to become worse.
Your rollers are probably in the same condition as in the image. So feel free to give us a call today so that we can discuss and arrange a time to fix your door so as to get things back to normal.
If you would like to watch the video below it will help you to understand our process in more detail.
In this video, we are replacing the rollers and carriages in a Clearview aluminium and Glass Sliding Door.
The door is impossible to move because the rollers had collapsed causing the track to become disintegrated.
Then with new rollers and track we achieved an excellent result, the lock lined up and locked perfectly and the door was able to slide easily. This type of repair is the most common Sliding Door Repair.
Give the
Adsafe Doors
team a call today on
0417 464 743
. We'd love to hear what issues you are having with your sliding door so we can recommend the best solution at the right price.
Feel free to call us for a free quote on 0417 464 743

or