Time to fix your sliding door & get on with life?
We are always surprised at how long people let their sliding door repair issue drag on (pardon the pun). You will be surprised at how much easier life is for the whole family once your sliding door is fixed.
We have a specialist sliding door repair team and we head over to the North Shore from Warrawee to Pymble to Waitara East every single week.
If there is one common thing we hear with every sliding door repair in the North Shore, it is 'Why didn't I get this done sooner?'
Let us get your sliding door back on track today
The look of relief when our customers can see their door sliding with one finger is amazing. Also, knowing you don't have to waste your money on a brand new door. Instead, our team can repair your sliding door for a fraction of the cost of a brand new one.
Adsafe Doors has been servicing the North Shore area with sliding door repairs for over 20 years and have hundreds of satisfied customers.
Like many of our customers, you may be experiencing one of more of the following:
You and the family are complaining your door is difficult to open and close
Your door isn't locking properly
You have to jig your door up and down to get it to lock
Your sliding door is no longer sliding properly
The noise your door makes when sliding isn't normal
Your door is scraping heavily when you move it
When you slide your door it comes off its tracks
If you found yourself nodding your head when reading the point above, then you need to give Adsafe Doors a call today.
We'll provide you with a friendly quote so you know exactly what it will cost.
You will also be given convenient options as to when we can book in your sliding door repair.
Our history in the North Shore Area is extensive and we have been operating in the area since 1992 and all our work is quality guaranteed. We only use premium products and promise that once we have finished working on your door, you will be able to open and close it with one finger.

Our process
We have been perfecting our sliding door repair process for over 20 years and we find the combination of experience, quality materials and professionalism allow the best result for your sliding doors repairs.
The Adsafe Doors team conduct hundreds of door repairs every year and we take care of the following:
Initial phone call to identify the exact issue with your sliding door
A clear quote so you are not left guessing the price or have an unexpected surprise
Your time is precious and we make sure to turn up on time
We remove the fixed side panel
Your door will be removed using our professional tools, safely and gently
We dismantle the bottom rail of the door
Your sliding door roller is likely disintegrated and we will fix or replace it
We fix the sliding door track and if needed, replace with a new track
Your locks will line up perfectly and you will feel secure knowing it locks just fine
We clean up after our work is done
Our Sliding Door Repair Services cover all suburbs within the North Shore Area, including the following locations:
| | | |
| --- | --- | --- |
| Warrawee | Wahroonga | Wahroonga East |
| Turramurra | Wahroonga South | Fox Valley |
| Turramurra South | Waitara | North Wahroonga |
| West Pymble | Pymble | Waitara East |
Over time, rollers get brittle and crack and with a few pushes in frustration, you will find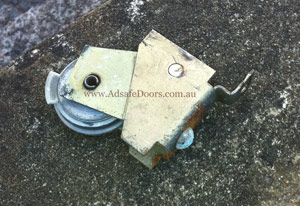 the roller simply disintegrates or creates rough edges and becomes near impossible to move.
We replace all broken parts with high-quality new ones
You will notice the image on the right with only one fragment of the roller left. Your sliding doors are likely at this stage already, so give us a call today and we'll arrange a time to fix your door and get things back to normal.
To understand our process in more detail, watch the video below.
Here we are fixing a client's door from start to finish. You will notice how near impossible the door was to begin with, as it had disintegrated tracks and the rollers. Tracks and rollers are the two biggest issues when it comes to sliding door repairs. We see it all the time.
This particular job was done at West Pennant Hills and if you watch the video to the end you will see how the locks line up perfectly and how easy it is to open and close the door.
Give the
Adsafe Doors
team a call today on
0417 464 743
. We'd love to hear what issues you are having with your sliding door so we can recommend the best solution at the right price.
Feel free to call us for a free quote on 0417 464 743

or