Our Mount Druitt Sliding Door Repairs are Thorough & Professional.
Adsafe Doors has been repairing aluminium sliding doors and timber sliding doors for many years in the Mt Druitt area, and we have many satisfied customers.
If your sliding door is jamming or scraping and is difficult to move or maybe just not locking properly or it keeps coming off the runner, then we can repair it.
We have the experience and know-how along with the quality parts necessary to repair all brands of Sliding Doors in Mt Druitt.
The result is you will be guaranteed to be able to open & close your sliding door with ease, quietly and smoothly.
Areas of Mount Druitt we service
Adsafe Doors have brought back to life, by servicing and repairing thousands of Tied and worn-out old Aluminium Sliding Doors and Timber Sliding Doors in Mt Druitt and in fact all of Sydney.
In the Mt Druitt area, we have hundreds of satisfied customers from St Clair to Mt Druitt and up Carlisle Avenue to Bidwell.
We have been servicing and successfully repairing Sliding Doors in the Mt Druitt region of Sydney since 1990, and our long history of servicing sliding doors has given us a familiarity with all the different Sliding Door Brands and conditions for Mt Druitt region.
Our goal is to enable our customers to be able to use their Sliding Doors with ease of opening and closing, which is better than it was when new.
In other words, you should be able to open your door with one finger, and it should slide easily. And finally, our repair should last for many years to come.

To achieve a better than good result like this we only use the best replacement parts that are made by Australian companies and follow the strict guidelines that we have perfected over the many years that we have been repairing Sliding Doors.
Our repair is guaranteed because all our work is based on years of experience in the Mt Druitt area.
And the parts we use, including rollers and machining the tracks, are high-quality items.
This enables our customers to have confidence in knowing that their hard-earned money has been put to good use in servicing and rejuvenating their Sliding Door. Your door repair will last for many years.
Our Procedure for sliding door repairs in the Mt Druitt area.
We have a record of every brand of Aluminium Sliding Door in the Mt Druitt area of Sydney and are very familiar with each of the problems that those brands of sliding door are likely to have.
This is because we have been servicing and repairing Aluminium Sliding Doors for many people in the Mt Druitt area over many years.
Due to repairing hundreds of doors every year, we have developed a unique strategy to repair each particular brand of Sliding Door.
From your initial phone call with us, we determine the size and the specific issues that you are having with your sliding door, and if possible, we try to identify the brand of door.
We always turn up on-time after we make a booking with you.
We supply you with a clear quotation so that you can be sure of the cost of repairs.
The screen and fixed panel are removed first if required.
Then we remove the door and put it on the edge to examine the condition of the rollers and the bottom rail which holds the roller carriage.
After the door is removed we dismantle any part of the frame of the door frame that may need to be examined or just refitted.
We show you the condition of the carriages and rollers of your door and show you our replacement rollers, which in some cases have a five year manufactures warranty. The rollers we use to replace the worn rollers in We machine the track (runner) on the threshold for the sliding door.
We fit a new replacement track.
When the Sliding Door and panel are both back in place we then adjust the lock and door to slide and lock correctly.
When you have tested and are satisfied with the operation of the Sliding Door, we clean up.
The result is that your door will slide better than new.
With 20 years experience in Aluminium Sliding Doors, we can bring a level of professional repair, quality of workmanship, with a proven track record to door service that is second to none.
We cover all suburbs in the Mt Druitt District with our Sliding Door Repair Services, which include the following locations:
| | | |
| --- | --- | --- |
| Dharruk | Whalan | Willmot |
| Minchinbury | Mount Druitt Village | Emerton |
| Lethbridge Park | Tregear | Blackett |
| Hassall Grove | Hebersham | Mount Druitt |
| Shalvey | Colyton | Bidwill |
The continued use of a sliding door where the rollers are worn, over time, always results in damage to the track runner. Many people unknowingly continue to use their door when their rollers are worn.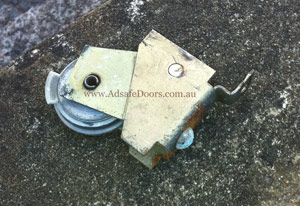 With worn rollers, only one inevitable result occurs. Damage to the track and threshold and more damage to the rollers.
And over the years this damage only intensifies causing more damage and which could include such things as the stiles (sides) coming away from the glass or the lock being broken etc.
This inevitably will only result in more expense later down the track.  It's a vicious cycle.
Tyres break and crack, and bearings wear sometimes releasing their balls into the threshold channel. And then one day with mounting frustration and a push of the door the roller gives up and collapses making your door impossible to move.
Looking at the image on the right you will notice the wear on the roller such that only one part of the roller is left.
Our advice is to have your sliding door serviced by a competent and licensed tradesperson only when your door starts to get noisy or difficult to move because you don't want, what could be minor damage becoming significant and expensive damage.
If your sliding door is noisy, then your rollers could be in the same lousy condition or even worse than the roller in our image.
So please feel free to call us, to discuss with you a time to service your sliding door.
Have a look at the video below because it will show you the way we can repair your glass and Aluminium Sliding Doors and what sort of result to expect.
This video shows us working on a Clearview Glass and Aluminium Sliding Door. The whole procedure can be seen very clearly.
The door will not move. The carriages and rollers have entirely collapsed onto the track causing the track to become severely worn and then damaged.
After we fitted the new rollers and installed the new track the door was sliding better than new, we achieved an excellent result with this door; the door was sliding and locking perfectly.
This is the most common type of sliding door repair problem that we find in Mt Druitt, and as you can see, we can repair the door so that it slides perfectly.
Give the
Adsafe Doors
team a call today on
0417 464 743
. We'd love to hear what issues you are having with your sliding door so that we can recommend the best solution at the right price.
Feel free to call us for a free quote on 0417 464 743

or